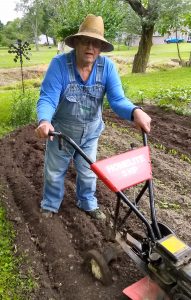 Harold Foster, 79, of Jamestown, Indiana, passed away on July 23, 2022, at IU Health Arnett Hospital in Lafayette, Indiana. He was born in Monticello, Kentucky on August 23, 1942; a son of the late Raymond and Chloe Marie (Phillips) Foster.
Harold was married to Judith Fay (Plasters) Foster on July 20, 1963, in North Salem and she survives.
He loved the land and was a farmhand and professional timber/logger for 25 years and later was a home builder. He enjoyed gardening, fishing, and hunting with his brothers and grandson, Ricky.  Harold was a good friend to many, a loving husband, father, and grandfather who will be deeply missed.
Survivors include his wife, Judy Foster of Jamestown; daughter, Julie (Mike) Myers of New Ross; grandson, Ricky Lee Myers; brothers, Hayden (Tammie) Foster of Pleasant View, TN, Carl Foster and Boyd (Helen) Foster both of Monticello, KY; sisters, Edna (Carlie) Tucker of Monticello, KY, Ethel Modglin of Greencastle, IN and Carolyn (Eddie) Branscum of Monticello, KY; brother-in-law, Spencer Tate of Henderson, KY, sister-in-law, Donna (Glen) Basham of Brownsburg; and thirteen nieces and six nephews.
In addition to his parents, Harold was preceded in death by a daughter, Mary Frances Foster; brother, Elmer Foster; brother-in-law, Edward Modglin; and sisters-in-law, Sandy (Bob) McCaughey and Nancy Tate.
Visitation will be held from 4:00 p.m. to 7:00 p.m. on Friday, July 29, 2022, at Porter and Hunt Funeral Home & Crematory, 315 West Main Street, Jamestown, Indiana 46147. Funeral Services will be held at 11:00 a.m. on Saturday, July 30 with additional visitation one hour prior at the funeral home in Jamestown. Interment will follow services at I.O.O.F Cemetery in Jamestown, Indiana.
Memorials may be made in his honor to the Gideon's Bible or Boone County Cancer Society.
Online Condolences: www.porterfuneralhome.us