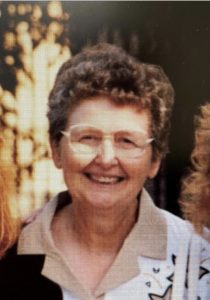 Muncie – Eva M. Walker, 89, passed away on Wednesday, March 1, 2023 at Westminster Village.
​She was born in Scircleville, IN on July 13, 1933, the daughter of William and Vera Shoemaker (biological parents) and Pearl and Everett Frazier (fosterparents). Eva had two sisters, Zelma and Helen, and two brothers, Johnny and Billy.
​Eva spent her life as a homemaker and enjoyed cooking as well as many forms of art including: sewing, crochet, oil painting and watercolor. She loved her Lord and Savior, Jesus Christ, and cherished reading her Bible and sharing the gospel with family, friends, and new acquaintances.
​Survivors include her children, Nancy Walker (Ralph) and Betty Walker; her grandchildren, Kevin Walker, Candi Walker, Logan Venhor, Adria Alexander (Kenan) and Adam Unger (Kara); also surviving are several great-grandchildren.
​She was preceded in death by her husband, Meredith Walker; a daughter, Carol Unger; and a brother Billy.
​A Celebration of Eva's life will be held at 4:00 p.m. on Monday, March 13, 2023 in Trinity Baptist Church, 5000, North Morrison Road, Muncie, Indiana 47304 with Pastor Tim Raymond officiating.
​Memorial contributions may be directed to Trinity Baptist Church.
​Online condolences may be sent to the family at www.meeksmortuary.com.