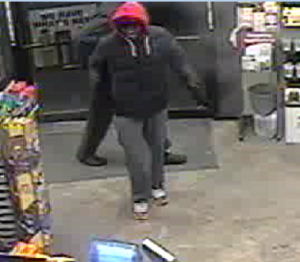 The Lebanon Police Department is investigating an armed robbery that was reported early Monday morning. At approximately 3:19 a.m., Lebanon Police Officers were called to the Speedway Station, located at 1335 South Lebanon Street for a report of an armed robbery that had occurred.
The victim reported that two Black Males entered the store, one wearing a ski mask and the other wearing a hooded sweatshirt. One of the suspects brandished a firearm, holding it to the attendant's head while demanding the contents of the register. The suspects left with an undetermined amount of cash and some merchandise.
The suspects were described as in their early to mid-20's with one suspect being approximately 5'5" and the other approximately 5'9". One of the suspects was
wearing a red hoodie with a black jacket and dark pants. The other was dressed in a dark jacket with dark pants. Both suspects were last seen running from the
Speedway Station to the east. Officers searched the area but were unable to locate the suspects or a vehicle.
There were no injuries reported during this incident. Detectives are asking for the public's help in identifying the two suspects in the attached photographs. If you know these individuals or have any information related to this incident, please contact our Detectives.
This is an ongoing investigation and further will be released when available. These suspects are considered armed and dangerous. If you know either of the male suspects in the attached photographs, please call 911 or the Boone County Communications Center at 765-482-1412, option 8.