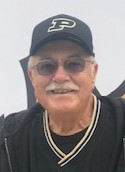 Marc Douglas Oliver, 69, passed away peacefully Monday, March 20, 2023, at his home in Lebanon, Indiana.  He was born in Indianapolis on July 30, 1953, a son of Shirley (Helm) Oliver Campbell and the late Jerry D. Oliver.
On June 28, 1980, he was married to Lynn E. (Leffler) Oliver in Everton, Indiana; she survives.
Marc was a 1971 graduate of Carmel High School and a 1977 graduate of Purdue University.  He spent many years as the Recreational Leader and Supervisor for the Indiana United Methodist Children's Home in Lebanon.  Most recently he had been employed at Witham Memorial Hospital.
Marc was a devoted husband, father, and grandfather. His grandchildren were his pride and joy.  He was an avid Purdue fan and gardener and enjoyed fishing in Wisconsin. Marc was a member of the Fraternal Order of Eagles Lebanon 2062 and a board member of the Park Place Homeowners Association where he held many roles.
Marc is survived by his wife, Lynn Oliver of Lebanon; children, Ryan D. (Mary Catherine O'Leary) Oliver of Garrett, Indiana, and Erin (James) Gordon of Indianapolis; mother, Shirley Campbell of Noblesville; four grandchildren, Cooper Oliver, Sienna Gordon, Bethany Oliver, and Leo Gordon; sisters, Robin Fehsenfeld of Greenwood, Lisa Martz of Florida, and Amy Heckman of Anderson; and several nieces and nephews.
In addition to his father, Marc was preceded in death by a brother, Scott Oliver.
Visitation is planned from 4:00 to 8:00 p.m. on Friday, March 24, 2023, at Myers Mortuary, 1502 North Lebanon Street, in Lebanon, Indiana. Funeral Services on Saturday, March 25 at 10:30 a.m. at the funeral home. Interment will follow services at Oak Hill Cemetery in Lebanon.
Memorials may be directed to the Humane Society for Boone County, P.O. Box 708, Lebanon, Indiana 46052 or Wolf Park, 4004 East 800 North, Battle Ground, Indiana 47920 or www.wolfpark.org.
Online condolences: www.MyersMortuary.com