Robert C. Bales, passed away January 26, 2021, peacefully with his family by his side, from complications from Bulbar ALS. Husband to Teresa (Thacker) Bales. Born February 25, 1963 in Frankfort to Grover and Margorie (Taylor) Bales. He married the love of his life Teresa Thacker on October 16,2004. He was employed by Frito lay and Roger Woodruff trucking Co, before attending the police academy and becoming a Police Officer for the city of Frankfort for 23 years. He was also a dispatcher FTO, (field training officer) and was a sniper on the swat team for many years before his retirement in 2019. Rob enjoyed rebuilding fast cars, his 2013 Hot wheels Camaro, car shows, Saints and LSU football. He also enjoyed going to see his favorite local live bands play with his wife. Rob enjoyed being a police officer and serving his community with much respect and pride he enjoyed helping others whenever needed. He also was an advocate for ALS awaren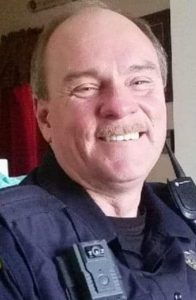 ess. Rob will be remembered for his contagious smile his kind heart, strength to never give up and loyalty to his loved ones.
His most valued love was spending time with his 4 granddaughters, Dallis, Charlee, Oaklynn and Kamryn. He is also survived by his wife, four daughters, Taylor Bales (Lafayette), Chelse Johns, Cassie Johns, Emma Fuel, one sister, Vianna Harris all of Frankfort, one brother-in-law, Mark Miller Milton KY.
He was proceeded in death by his parents, his mother and father in-law, Jess and Arland Thacker.
Private family services will be held, with a Celebration of Life that will take place at a later date. In lieu of flowers the family wishes to please make all donations to the Steve Gleason foundation for ALS, c/o Team Gleason Foundation, P.O. Box 24493, New Orleans, LA 70184.  Goodwin Funeral Home, 200 S. Main St., Frankfort is assisting the family with arrangements.  Please visit goodwinfuneralhome.com, where you may share a personal message with the family.