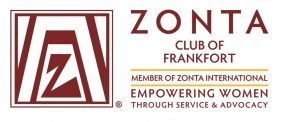 Zonta Says NO To Violence Against Women, it's 16-day campaign, begins Monday, November 25 and runs through Tuesday, December 10. We will be running the campaign in three different sections (November 25-30, December 1-5 and December 6-10. The following is the first six days of the campaign.
Day 1 — Nov. 25 — Zonta is an international service organization founded in November of 1919 in Buffalo, NY by a small group of women with a vision to help all women realize greater equality while using their individual and collective expertise in service to their communities.
Day 2 — Nov. 26 — Zonta is 29,000 members in 63 countries, all working together on a mission to empower women worldwide through service and advocacy, envisioning a world in which women's rights are recognized as human rights and every woman is able to achieve her full potential. In such a world, women have access to all resources and are represented in decision making positions on an equal basis with men. In such a world, no woman lives in fear of violence.
Day 3 — Nov. 27 — Zonta is empowering women through advocacy and service locally and throughout the world, Internationally, this includes working with various agencies of the United Nations, like UNICEF, and locally supporting the work of other community organizations addressing issues impacting women, including inequality, access to education, health care, safe places to live, and violence.
Day 4 — Nov. 28 — Zonta is working to end violence against women and girls through its advocacy efforts in raising awareness to it, one of the most pervasive human rights violation and a global epidemic. Locally, in recent years, to help raise local awareness, the Zonta Club of Frankfort provided "Zonta Say NO to Violence Against Women" wraps for buses from the Paul Phillippe Resource Center. Most recently, as in past year, both the Frankfort and Lebanon Clubs participated in the 4th annual "Zonta Says NO!" walk with other Indiana Zonta Clubs.
Day 5 — Nov. 29 — Zonta is focused on actions to raise awareness and prevent violence against women and girls through the "Zonta Says NO to Violence Against Women" campaign during the 16 days between November 25 (International Day for the Elimination of Violence Against Women Day) and December 10 (Human Rights Day).
Day 6 — Nov. 30 — Zonta is committed to educating the world about violence against women and girls, which knows no national or cultural barriers; it takes place at home, in the workplace and in open spaces, and affects millions of women and girls in peacetime and conflict. It includes psychological, physical and sexual violence, and harmful practices such as rape, female genital cutting, human trafficking, and child marriage.