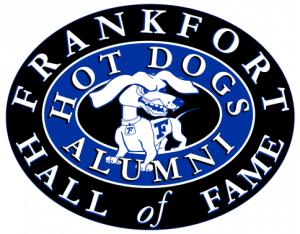 Eight individuals were enshrined in the Frankfort Hot Dogs Alumni Hall of Fame Saturday night in the cafeteria at Frankfort High School,
That now brings the total in the Frankfort Hall of Fame to 50 for an organization  that has been operating for just five years.
"What this Hall of Fame does is it brings to the community the importance of what this community means to these individuals growing up in it," said Hall of Fame Chairman Don Stock. "Being in a small community, a small town, is impressive and I'm just glad to be a part of it."
All six living members of the year's inductees made it back. The other two, Lt. Colonel James Rentschler (Class of 1951) and Mary Gorham Herrick (Class of 1912), was both posthumously inducted.  The six inducted were Chad Buntin (Class of 1996) Kelly Good (Class of 1986), Dr. Tom Miller (Class of 1981) Steve Mullins (Honorary), Mark Sawicki (Class of 1975) and Randall (Boe) Workman (Class of 1970).
Among the inductees, you have a highly successful swim coach whose name is on the aquatic center at Frankfort High School; a state wrestling champion and a member of the United States Coast Guard; an architect; a doctor; a member of the Navy, Top Gun graduate, airline pilot and doing mission work; and a teacher who served as speechwriter in the Reagan-Bush National Campaign.
"Every one of them has gone out and touched the world somehow, someway in all amazing ways," said Stock. "You just can't be any prouder as a member of the community of Frankfort."
Stock hailed the people in their young lives of the inductees who helped shaped who they are.
"It all starts in the high school, it all starts in the elementaries and how the teachers bring students around," said Stock. "You don't want to put the pressure on us or all of them. I don't think all of people understand how these people were formed by their parents and by the school system."
The following people are in the Frankfort Hot Dog Alumni Hall of Fame:
The Inaugural Class of 2018: Alumni — David Kyle Cook, Janice Gail Koertge Davidson, Andrew J. Detharge, Rana Dogar Foroohar, William Aughe Ghere (Will Geer), Gary Thomas Goode, James William Goodwin, Larry Allen Gosewehr, Vance J. Hinton, Karren Mundell Kowalski, PhD RN; Lawrence J. "Jay" McCreary, Douglas F. Reid, Dr. D. Kevin Scheid. Honorees — Everett Norris Case, Raymond "Buck" Rohrabaugh.
The Class of 2019: Alumni — Charles L. (Chuck) Aidman, Dr. Franko Beardsley, Lt. Gen. Jay Kelley, Dr. Patrick Kersey, Cindy Ward Wine Martinez, Karen McClain Miller, Jim H. Miner, Rawlings "Rawl" Ransom, Richard "Butch" Ricker, Ralph Vaughn. Honorees — John Milholland.
The Class of 2020: Alumni — Steve R. Adams, John Coulter, Phil E. DePoy, Perry Charles Lewis, Dr. David Moore, James Rogers, Jonelle Smith. Honorees — Katherine Howard.
The Class of 2021: Alumni — Dan Cougill, Thomas V. Ranson, Dr. Roger Frank Robison, Robert K. Ryan, Gina Lucas Sheets.