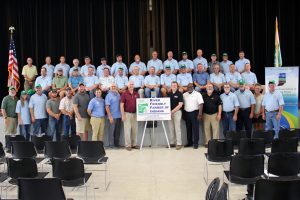 Indiana's lakes, rivers, streams, and wetlands are valuable natural resources. Protecting these water resources is imperative and 47 farmers received accolades on August 18 at the Indianapolis State Fairgrounds for their 'river-friendly' efforts.
"Honoring these farmers annually for their conservation efforts is a high priority for the state association of soil and water conservation districts. We are so pleased to be able to meet in person and show our 'thanks' for helping us improve water quality and build soil health statewide," states Bobby Hettmansperger, Board President, Indiana Association of Soil and Water Conservation Districts. "We need everyone to get on board like these farmers and make the protection of natural resources a priority so they are here to enjoy for future generations."
Jay and Sue Hawley were recognized as Clinton County's River Friendly Farmer(s). The Hawley Farm is a corn and soybean operation located in the Sugar Creek Watershed.  The farm is no-tilled providing cover year-round reducing erosion, soil compaction and fertilizer inputs making the soil healthier.   Fall cover crops are planted on the land to replace nutrients and to protect the soil.  Integrated Pest and Nutrient Management Plans allow Hawley to apply the right nutrients, at the right time and place.   These best management practices reduces the amount of sediments, nutrient and pesticide runoff into the watershed.
 When asked about his long commitment to conservation Jay's reply was "because we care.  This is God's land and ours to take care of."  Incidentally, Jay's father, Charles Robert Hawley, was one of the first elected supervisors to serve on the Clinton County Soil and Water Conservation Districts Board when it was first formed by public referendum in 1967.
The annual River Friendly Farmer Award ceremony recognizes farmers for their implementation of conservation practices, like no-till and cover crops, which ultimately protect waterways and improve water quality in Indiana. These farmers were nominated by their local Soil and Water Conservation Districts (SWCD).
Sponsored by Indiana Farm Bureau, the River Friendly Farmer Award program began in 2000 and has honored over 1,000 Indiana farms.
This year the Indiana Association of Soil and Water Conservation Districts hosted the event and  IASWCD Board President Bobby Hettmansperger opened the ceremony and remarks were made by Randy Kron, Indiana Farm Bureau President; Jerry Raynor, Indiana State Conservationist, Natural Resources Conservation Service (USDA-NRCS); and, Trevor Laureys, Director of Soil Conservation, Indiana State Department of Agriculture. Amie Simpson, Brownfield Ag News, emceed the ceremony.
For a complete list of this year's winners along with a short bio, go to: http://wordpress.iaswcd.org/river-friendly-farmer-award/.