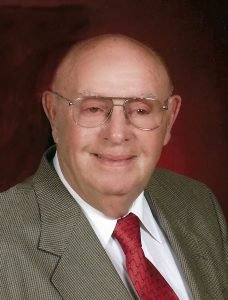 William "Bill" Joseph McNeal, 91, of Frankfort, passed away on Tuesday, January 26, 2021 at IU Health Frankfort ER. He was born in Curwensville, Pennsylvania on March 8, 1929 to Lewis J. and Ada Golda (Young) McNeal. He married Clara Frances Smith on June 27, 1954 at Goshen Methodist Church in Clearfield County, PA; she survives.
Bill was a 1947 graduate of Cherry Tree High School in Cherry Tree, PA.  He received his bachelor's degree from Saint Francis College of Loretto, PA.  He worked for Clearfield Cheese Company in Pennsylvania and Indiana before beginning work at the General Motors Allison Detroit Diesel Engine Plant in Indianapolis from which he retired after 31 years.  He enjoyed spending time with family and going on trips, including going to Turkey Run State Park and Lake Michigan.
In addition to his wife, Bill is survived by his children, Brenda Kay McNeal (husband Herbert Engle) of Milton, DE, Peggy Ann Farlow (husband Jay) of Fort Wayne, IN, and Pamela Lynn McNeal-Laue (husband Steve) of Sun City West, AZ; grandchildren, Ian Laue of Sun City West, AZ and Sean Laue (wife Mei Yang Laue) of Surprise, AZ; and great-grandchild, Lance Yang Laue of Surprise, AZ.
He is preceded in death by his parents, and brother, Lewis "JC" McNeal.
Visitation will be held from 9:00 am until the time of the funeral service beginning at 11:00 am on Monday, February 1, 2021 at Genda Funeral Home in Frankfort with Pastor Phil Lake officiating.  A private family burial will be held in Green Lawn Cemetery, Frankfort.
In adherence to the current CDC guidelines, it is requested that guests follow the appropriate social distancing and the wearing of masks.
Memorial contributions in Bill's honor may be made to St. Matthew United Methodist Church, 1951 Wilshire Dr., Frankfort, IN  46041.
Online condolences may be directed to www.gendafuneralhome.com.