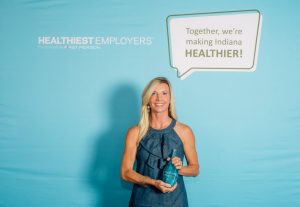 Witham Health Services has been recognized as #1 in 2019 for the Healthiest Employers of Indiana, a nationally recognized awards program powered by the Springbuk Health Intelligence Platform and presented by Healthiest Employers.
Applicants to the Healthiest Employers® awards program were evaluated across six key categories, representing a holistic view of employee wellbeing: Culture and Leadership Commitment, Foundational Components, Strategic Planning, Communication and Marketing, Programming and Interventions, and Reporting and Analytics. All companies who applied to the awards program were ranked according to the proprietary Healthiest Employers® Index, a 1-100 rubric for employee wellbeing programming.
Witham Health Services was honored in October for their tremendous commitment to employee health and exceptional corporate health programming. As one of Five distinguished winners across varying employee size categories, Witham Health Services has clearly demonstrated that their team members are a top priority across their organization.
Witham Health Services provides a full service comprehensive Wellness Program.  Since 2009 the program has continued to evolve for the employee, the patients, the local school systems and the community at large. "I'm so grateful for our incredible Wellness team, the support of our leadership  and I'm so proud of everything we've been able to do so far and really look forward to the things we can do in the future for our employees and patients." said Trina Rose, Wellness Coordinator at Witham Health Services.
"The Wellness programs that Witham offers its employees and the community continue to grow because of the hard work, enthusiasm and knowledge of our Wellness Coordinator and her team and because of the acceptance of area businesses, schools and hospital realizing the benefits. Through the Community Health Needs Assessment a need for wellness initiatives was identified. Witham responded by developing effective community focused programs to meet those needs. Witham is proud to be able to impact our community in such a positive way." said Dr. Raymond Ingham, Ph.D., President/CEO Witham Health Services.
"Supporting the wellness of our employees and the communities we serve is integral to our mission to improve health through excellence and personalize care.  Witham is grateful for being recognized as #1." said Emily Rogers, Vice President, Support Services Witham Health Services.
"We congratulate Witham Health Services on being named a leader in workplace health for their inspiring commitment to employee wellbeing. Each year, it's our privilege at Springbuk to recognize the best of the best in corporate health through the Healthiest Employers® awards program. Across the nation, we're encouraged by the tremendous efforts of corporate health leaders proactively investing in the wellbeing of their employee population," said Rod Reasen, Co-founder and CEO of Springbuk.
About Witham
Witham Health Services has served the residents of Boone and surrounding counties for over 104 years.
Witham Health Services is a progressive, modern health care provider. We offer many of the medical services people need throughout their lifetime, right here, close to home. Whatever your health care needs are in the future, you won't have to travel far for quality care. We have offices in Crawfordsville, Frankfort, Jamestown, Lebanon, Thorntown, Whitestown at Anson and Zionsville.
With our physicians, specialists, and advanced equipment and procedures, you can count on exceptional care in friendly, familiar surroundings with your family and friends nearby. If you're hospitalized, your treatment will be managed by a physician or specialist you know and trust. Our staff takes pride in providing high quality care with a caring touch.
Witham Health Services is a county owned, nonprofit healthcare organization committed to improving health through excellence and personalized care. We also support the community through sponsorships, donations and partnerships that align with our Mission, Vision and Values.