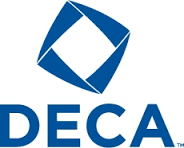 Frankfort High School DECA Chapter is celebrating their 23rd year. DECA prepares emerging leaders in the area of marketing, hospitality, finance, management, and entrepreneurship in high schools and colleges around the world. This year, Frankfort DECA has 47 members. Senior, Daniela Cruz, serves as the chapter president, juniors, Edwin Wainscott, Dalys Garcia-Martinez, and Jazmin Lozano-Barragan are vice presidents. November is National DECA Month and Frankfort DECA has many activities planned.
Members kicked off National DECA Month by attending the Indiana DECA Fall Leadership Conference on Monday, November 7, at Gainbridge Fieldhouse. Twenty-five Frankfort students attended various leadership workshops, met with Pacers Front Office employees, and attended the Pacers basketball game.
Strategic Marketing students operate the school-based enterprise, DECA Cookies. Delicious Otis Spunkmeyer cookies are baked and sold Monday through Thursday to staff and students. On Friday, November 11, students baked, packaged, and delivered warm M&M cookies to each teacher in celebration of National DECA Month. DECA seniors expressed their appreciation to teachers.
First year members are participating in the DECA Ethical Leadership Challenge during November. The Bill Daniels Initiative Fund partners with DECA Inc. to help educate members about ethical leadership. Students learn about business ethics, ethical leadership, why ethical dilemmas occur, and the 8 ethical principles as follows: Integrity, Trust, Accountability, Transparency, Fairness, Respect, Rule of Law, and Viability. Members work in teams to plan and record a 60-second public service announcement to post on YouTube. Throughout the month, officers will also help create awareness for the 8 ethical principles to FHS students and staff.
In addition to the multiple dress up days, Donuts for DECA, DECA T-shirt Tuesdays, and DECA swag giveaway, the most anticipated DECA activity is at the end of the month. This year, the entire Strategic Marketing class, all DECA members, will be traveling to New York City from November 30-December 4 for the DECA NY Experience Conference. Whereas this will be Frankfort DECA's third trip to NYC, this is a first-time trip for every student in the class.
A few of the trip highlights include the lighting of the Rockefeller Christmas tree, department stores holiday window displays, touring Madison Square Gardens, watching The Christmas Spectacular with the Rockettes, attending the Broadway show Beetle Juice, going up the Empire State Building, experiencing the Summit One observatory, spending time in The Met, touring the 9/11 Memorial and Museum, riding the subway and lots of shopping. The 5-day agenda is packed full of memorable experiences.
Follow @FrankfortDECA on Instagram and Twitter to stay up-to-date on all things Frankfort DECA.
About DECA Inc.
DECA is a career and technical student organization that prepares emerging leaders and entrepreneurs who are interested in careers in
marketing, finance, hospitality, and management. DECA enhances the preparation for college and careers by providing co-curricular programs
that integrate into classroom instruction, apply learning, connect to business and promote competition. DECA student members leverage their
DECA experience to become academically prepared, community oriented, professionally responsible, experienced leaders. DECA is a 501(c)(3)
nonprofit with more than 225,000 members in 4,000 high school and college chapters in all 50 United States, Canada, and multiple countries
throughout the world.
For more information about DECA, visit http://www.deca.org.